What to Watch Free on FilmRise for April 2020
Free Streaming Leader Adds New Comedy, Dramas and Action movies, including faith-based favorite, Passion of the Christ and Oscar-nominated fantasy-mystery The Illusionist Bingeworthy TV includes 3rd Rock from the Sun, The Real McCoys and Hell's Kitchen
March 26, 2020 – Menlo Park
FilmRise, a completely free, ad-supported channel available across Connected TV and mobile app platforms with no subscription fee requirement, today announced a new slate of April titles. Filmrise offers a range of content across genres including Drama, Comedy, Romance, Kids & Family, Thrillers, Documentaries, Lifestyle, Reality TV, and niche segments like British TV shows, World cinema, LGBTQIA movies and more. Audiences can enjoy its curated collection of premium and unique content. The FilmRise TV apps are enabled on every platform by Future Today, Inc.
Starting in April, audiences can enjoy the Academy-nominated historical fantasy-mystery The Illusionist (IMDB: 7.6/10) starring Edward Norton and Jessica Biel. Also featured is Monster, a biographical crime drama that earned Charlize Theron an Academy Award for Best Actress.
During difficult times, faith helps us get through. FilmRise celebrates Easter and the Holy Month with the critically acclaimed, Oscar-nominanted film The Passion of the Christ, starring Jim Caviezel and Monica Bellucci.
April 22 is Earth Day and FilmRise has curated the best of nature-themed documentaries. Watch Bear Grylls: Survival School, Gordon Ramsay's Shark Bait, James Cameron's Deep Sea Challenge, Martin Clunes in Man to Manta and Last Lemur Standing, and many more titles which explore our biodiversity, and the impact of climate change on it.
If you're searching for bingeworthy TV programs, look no further than our collection of Food -based reality shows, including all 18 seasons of Hell's Kitchen. Also check out Gordon Ramsay in Kitchen Nightmares and Gordon's Great Escape.
We know that most of you are stuck home social-distancing and self-quarantining. Make laughter your best medicine with laugh riots like The Accidental Husband, Stuck in Love, Ernest in the Army, among many others available in April. Filmrise also has classic sitcoms like 3rd Rock from the Sun and The Real McCoys for binge-watching fans.
Below is the list of select highlights of curated April 2020 FilmRise movies, which you can watch for free on Roku, Fire TV, Apple TV, Xbox, Comcast Xfinity, Android and iOS apps.
April Exclusive Movies on FilmRise Starting April 1:
Out of Time (2003)
Evelyn (2002)
What's the Worst That Could Happen? (2001)
Copying Beethoven (2006)
Courage Mountain (1990)
Canadian Bacon (1995)
The House on Carroll Street (1988)
Bingeworthy Food-Themed Reality TV Shows:
Kitchen Nightmares
Hell's Kitchen
Gordon's Great Escape
Matilda and the Ramsay Bunch
Gordon Behind Bars
Gordon Ramsay's Ultimate Cookery Course
Ramsay's Kitchen Nightmares
Comedy Movies and Shows:
3rd Rock from the Sun (1996 – 2001)
Ernest in the Army (1998)
The Real McCoys (1957-63)
The Accidental Husband (2009)
Relative Strangers (2006)
Are You Here (2014)
Stuck in Love (2013)
Easter Special: Faith-Based Movies:
The Passion of the Christ (2004)
The Inquiry
Highway to Heaven
Father Ted
Ragamuffin
Sacred Hearts
The Courage to Love
The Messenger of the Truth
Timeless Hits on FilmRise:
The Illusionist (2006)
Monster (2003)
Memento (2000)
Donnie Darko (2001)
Bad Lieutenant (2009)
Get the Gringo (2012)
Bernie (2011)
Blitz (2011)
Earth Day Specials: Nature Documentaries:
Bear Grylls: Survival School (2016)
Gordon Ramsay: Shark Bait (2011)
James Cameron's Deep Sea Challenge (2014)
Martin Clunes: Man to Manta – In Search of the Giant Ray (2011)
Martin Clunes: Last Lemur Standing (2012)
Arctic Dilemma: Greening of Iceland (2011)
Arctic Dilemma: Greenland Connection (2011)
Horror Films:
American Werewolf in Paris
Dog Soldiers
Prom Night
Prom Night 2: Hello Mary Lou
Blood Ties
Ted Bundy
Triangle
Hollow Creek
About FilmRise
FilmRise is an industry-leading film and television distribution company and streaming network founded by veteran producers and financiers Danny Fisher, Jack Fisher and Alan Klingenstein. FilmRise content can be found in theaters, FilmRise proprietary channels and on many popular streaming platforms including Amazon, Netflix, The Roku Channel, HBO, Pluto, Apple and more.
About Future Today
Future Today is a leader in the ad-supported streaming media universe with its flagship channels – Fawesome and HappyKids – ranking in the top free channels on the various OTT platforms. The company launched its first OTT channel in 2011 and has since then grown to operate more than 700 content channels with over 70 million app installs, and manages a library of more than 200,000 film, television and digital content assets in a variety of categories including entertainment, movies, food, lifestyle, animation and kids. Established in 2006, Future Today, Inc. is a pioneer and leader in the OTT media and technology landscape. The company's cloud-based technology platform manages OTT services for more than 350 content owners, producers, distributors and major media companies helping them launch and monetize complex Connected TV channels across devices in a matter of days. To learn more about Future Today, please go here.
All Media Inquiries
Renee Maler
Philosophy PR + Marketing
510.499.9746
renee@philosophypr.com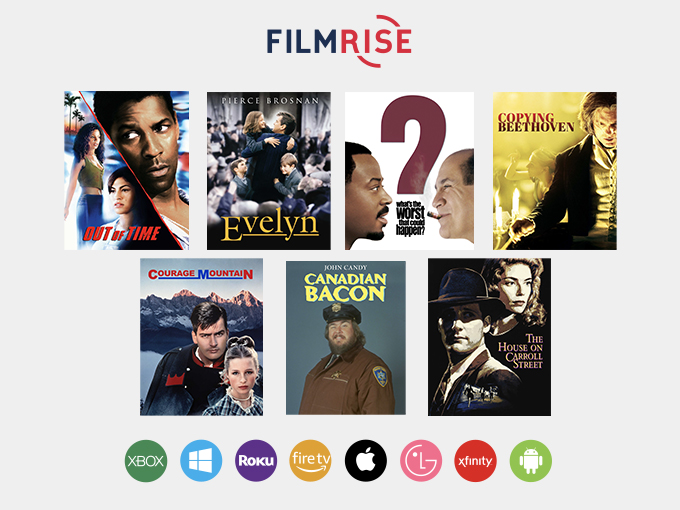 Have more questions?
Please be in touch – we look forward to hearing from you.