What Your Kids Can Watch Free on HappyKids.tv in June
June 1, 2020 – Menlo Park, CA
HappyKids.tv, a leading provider of kids programming on multiple streaming devices, has released its new titles for June, offering kids and their parents popular series options to stream free from home. Here's what's slated for June in all age ranges:
0-2
Blippi – known for his bright orange-and-blue beanie, orange glasses, and matching bowtie, Blippi loves helping kids learn about colors, shapes, numbers, and more
Little Baby Bum – a fun and educational show for kids featuring classic and new nursery rhymes and loved by babies and their parents all around the world.
Mother Goose Club – breathes new life into classic nursery rhyme characters to promote early literacy, mathematics, and more! Join in as they dance, sing, twirl, and rhyme through these catchy songs that are as educational as they are fun.
The Hippy Hoppy Show – this collection of popular learning songs for kids will keep your little ones engaged for hours on loop.
0-4
Cat in the Hat – a knowledgeable, adventurous, anthropomorphic cat. He loves to explore the world and act as Nick and Sally's guide, and he frequently speaks in rhyming patterns reminiscent of the Dr. Seuss  character on which he is based.
My Little Pony – the adventures of a studious anthropomorphic unicorn pony named Twilight Sparkle as her mentor, Princess Celestia, guides her to learn about friendship in the town of Ponyville.
Thomas and Friends – follow the famed blue engine as he travels the world, making new friends, exploring new cultures and unearthing new discoveries.
The Oddbods – ollow the adventures of seven creatures in colorful furry suits — Fuse, Pogo, Newt, Bubbles, Slick, Zee and Jeff as they celebrate individuality in a humorous, warm and unexpected way."
Teletubbies – come join Tinky Winky, Dipsy, LA-LA and Po as they take us on an adventure.  Teletubbies is designed to help young children develop their physical, emotional and cognitive skills in a warm, loving, playful environment. It's all about exploring, experimenting, experiencing and enjoying life.
4-6
Little Heroes – our Little heroes face off against all kinds of bad guys with lots of family fun along the way! Little Heroes to the rescue!
Morple – watch as the energetic little red creature morphs into anything: a sweet puppy, a giant truck, a cool dinosaur or anything that Mila's playful mind can imagine.
Ninja Kidz – family friendly videos ranging from Action skits to Adventures, from fun Challenges to cool skills tutorials. The videos showcase "Ninja" kids who are skilled martial artists, gymnasts and parkour artists.
Princess ToysReview – stars have fun with toy reviews, create fun challenges and vlogs (video logs) all centered on having fun while learning.
Tic Tac Toy – A family toy show that boasts nearly 2.5 million subscribers on Youtube. The videos feature Addy, Maya, Lucy, Jason and Colin as they create fun, silly videos and vlogs.
Toy Caboodle – an awesome toy show that gives you all the latest and greatest toy surprises with lots of reviews/unboxings, hunts, giveaways, and much more!
6-10
Bakugan – Bakugan Battle Brawlers is an animated series which follows the story of a boy named Dan and his group of friends, as they forge relationships with mysterious alien creatures known as Bakugan.
Pokemon – Ash Ketchum, his yellow pet Pikachu and his human friends explore a world of powerful creatures.
Talking Tom and Friends – Armed with tech gear, awesome ideas, and an unfailing sense of humor, Talking Tom and Friends are on a mission to make their dreams come true. Although things never entirely turn out the way they plan, this incredible group is destined to warm hearts – and break a funny bone or two – along the way.
The Garfield Show – Lazy, lasagna-loving fat cat Garfield lives life on his own terms, which includes teasing his geeky owner, Jon, and tormenting his dimwitted pal Odie.
Transformers – Two opposing factions of transforming alien robots engage in a battle that has the fate of Earth in the balance.
Teen Titans Go – Superhero roommates Robin, Cyborg, Starfire, Raven and Beast Boy love saving the day, but what happens when they're done fighting crime?
6-10 Girls
LOL Surprise – L.O.L. Surprise! are collectible dolls with mix and match accessories! L.O.L. Surprise Unboxed! Series gives fans a behind the scenes look at its most popular brand, and takes unboxing to the next level.
Sabrina The Animated Series – animated spin off of the television series Sabrina the Teenage Witch. The animated series is a prequel which features Sabrina as a pre-teen girl with small witch powers.
Trollzs – The story about five trollz that learn about The Magic of the Five, and only they can use it to fight evil and protect their beloved city.
Winx Club – At Alfea College, fairy warriors from all over the universe study to improve their supernatural powers. Bloom from planet Earth joins them upon discovery of her magical ability.
Additional Categories Available in June with hundreds of hours of streaming:
Age 10+
Edutainment
Kids Movies and TV
Learning
Lego Corner
Minecraft
Original Shows include:
Twinkle Toes
Barney Google Kids Show
Beetle Bailey
Classic Popeye Kids Show
Krazy Kat
Adventures of Sonic the Hedgehog
Super Mario Bros.
Sabrina: The Animated Series for Kids
Ripley's Believe it or Not Kids Show
Adventures of Paddington Bear
The New Adventures of Madeline
Inspector Gadget
Dino Squad
Batman Unlimited
DC Super Friends
Ruffus The Dog
Cody The Dinosaur
Heathcliff
HappyKids.tv s a FREE and SAFE app designed to educate and entertain millions of kids across multiple platforms every day. Parents trust HappyKids.tv to provide kid-safe content for every age group with music, rhymes, stories, movies, popular shows, DIY, activity guides and more. The content is segmented by age group for 0-2 yrs (toddlers), 2-4 yrs (pre-schoolers), 4-6 years, and kids 6+. There are also separate sections for Kids Movies & TV shows, Minecraft videos, and a featured section which offers the best of everything. HappyKids.tv is available on Roku, Fire TV, Apple TV, LG TV, and all other connected TV devices. You can also check out our completely ad-free mobile app!
All Media Inquiries
Renee Maler
Philosophy PR + Marketing
510.499.9746
renee@philosophypr.com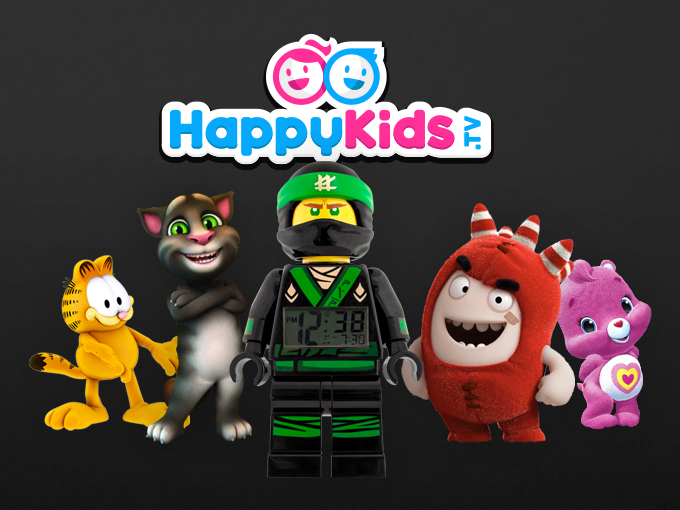 Have more questions?
Please be in touch – we look forward to hearing from you.